Chevy Metal concert, Conejo Valley Days, May 9th 2015

NOTE:
All described events are true and actually happened. If any comments seem jocular or sarcastic, please note that no offence was intended to the characters involved or readers. Please, keep an open mind while reading
Characters:
Chris
- Foo Fighters guitarist and, from time to time, Chevy Metal guitarist
Dave
- Foo Fighters frontman and, occasionally, Chevy Metal rhythm guitarist
David
– my host and the concert organizer. The person who made it all happen to me.
Grant
– my friend, photographer and a great Foo Fighters' fan. He took care of me and spoke for me during the event.
Lou
– sound engineer at Studio 606 who put The Birds of Satan record together. He occasionally plays drums.
Petra
– David's wife, the most cheerful and hardworking person I know
Rami
- Foo Fighters keyboard player
Taylor
– Foo Fighters, Chevy Metal and The Birds of Satan drummer who also sings from time to time
Wiley
– Chevy Metal and The Birds of Satan bassist, Taylor's friend
It all started on Friday when we were to step into Studio 606 just for a second where David was supposed to leave passes for the band so that they could enter the picnic area. We went there in a van that smelled of pizza. David asked me to remain calm as fans sometimes go completely nuts… but I'm not a teenager any more so I knew well how to behave. I really had no intentions of bringing shame on him. Wiley was the only person who was supposed to be in the studio. I psyched myself up for that meeting. He's one of my FB friends and when we occasionally exchange messages he's always very nice so it was easier for me. We drove up to the studio and when a huge black front gate opened, the first person I noticed was the Foo Fighters technician. He was talking on the phone. The next thing I saw in the parking lot was the Chevy Van with its door open and some cables sticking out. It looked like somebody was cleaning the interior and checking the engine. Wiley was coiling a cord. My stomach churned.
David and Petra stepped out of the car and exchanged greetings. When I jumped out of the car, Wiley was startled to see me, which made me feel nice. He probably never really believed me when I said I was going to visit them for that concert. As soon as he realized I was really there, he hugged me warmly. He welcomed me and started a conversation but I reminded him I don't speak English well. He smiled and said: "okay". He stepped aside and, at that moment, Taylor jumped out of the van. I have to admit, my legs went from under me and, for a change, I was the one standing there with my eyes wide open. I didn't expect him to be there at all. And yet …
He came up to me hug me warmly, though he didn't know who I was. That's the way it is back there. Everyone is kind and friendly. David told Taylor that I'm from Poland and he looked at me with surprise. I showed him my Birds of Satan badge. He smiled and said: "Oh fuck…"
Then they started discussing concert related stuff like when to arrive or where to show the passes. David gave them tickets for friends. Usual organizational issues. In the meantime, Rami and Lou joined us. I stood at the back and observed Taylor. You may think it's silly but I paid attention mainly to his tracksuit and sneakers … like a teenage fan. Only that I didn't squeak. In the meantime, I heard that Chevy Metal would have a very special guest at the show the following day. The secret guest meant to be Dave Grohl. Nobody could know about that and I couldn't tell anyone either. When the conversation was about to finish, Petra took me into the studio. It was a very short trip but the building is not big. I saw the console, the recording room, the famous hall and the entrance to the gear storage room. I was shocked. It was so mind-boggling. Taking photos is not allowed in there and I obeyed the rule.
When we went out to the parking lot I decided it was time to brace up and give Wiley the bell. I brought some handmade tiny sheep bells from Poland. The sound they make is really beautiful. Wiley was delighted with it and said it was cool and that it sounded very nice. He had a jolly good laugh when I told him it was a sheep bell. He even tried to pronounce its Polish name, which is " zbyrcok", but wasn't very successful at it.
After that, I was admiring the Chevy Van. I love that car. Finally, I asked if I could take a look inside, to which Wiley replied: "Of course". I touched the door solemnly, which made Wiley laugh. He wanted to take my photo next to the van but I refused. I was shocked.
Then it was time to get ready to leave. As we were driving out, Wiley was waving me goodbye like crazy. He's the most awesome guy in the world!
The following day, we arrived at the spot at about 1 pm. The concert was scheduled to start at 4 pm Everything was ready. There was additional railing and screens so no one could see what was at the back. However, there was no security or anything like that. It was picnic-like. The first person I encountered was my friend, Grant. He was very excited as the first person he run across on arrival was Wiley. He said his act of parking the car was sheer madness because he wanted to rush to say hi to Wiley as soon as he spotted him. Apparently, being a fan obliges to do wired stuff, no matter how old you are. In spite of all, Grant and I kept up our spirit. We ate a slice of pizza each, got the VIP bands from David and went backstage.
Wiley was already there. They all greeted me warmly and my heart was beating like a drum. They were impressed that I'm from Poland and I came all the way so see one concert. But, since the concert did not want to come to me, I decided to come to it. Wiley said they appreciated the way I manage The Birds of Satan Fans group on FB and added that the poster promoting their concert that I made was incredibly cool. All that vas very nice to hear. I'm so proud that my poster was on the tickets and promoted the concert on Chevy Metal FB page. I feel honored.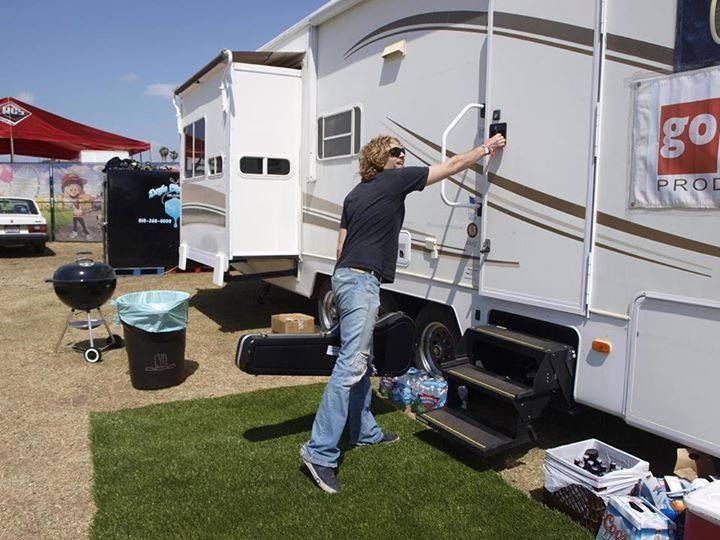 David drove a golf cart around the picnic area and, suddenly, I spotted a pick-up truck with FF gear following him. It was amazing. Guitars, cymbals and a pedal for Taylor. Wow! Grant left to help them and when he came back, he was wearing a broad smile. He got to hold Dave's guitar. For that short moment, he was the band member. For a moment, he was the band's technician.
I decided I needed a smoke as emotions reached the zenith. When I was standing there, I saw David again driving the cart. This time, he was followed by a black car with darkened windows. My heart leapt. They drove past me and I spotted Grohl behind the wheel. I thought to myself: "Take it easy, you knew he would be here so don't go nuts, just keep on smoking". But it's always easier said than done. My hands were shaking but I kept on smoking acting as relaxed as I could. I watched him step out of the car wearing black jeans and a black t-shirt with a white print.
Dave exchanged greetings with everyone and I also found courage to approach him. They explained my presence to him and he started talking to me. I said I don't speak English ... and he said he doesn't speak Polish. Then he gave me a hug.
In the meantime, we taped a board which read: "band only" on the door of a giant trailer.
Next, Chris arrived. He was by himself. As he was hungry, he went to grab some pizza and sat at the table next to the trailer. Grant and I came up to say hi. Chris was surprised by the fact that I come from Poland. He said his grandmother was Polish. He got a sheep bell and a shawl for his wife from me, for which he was very thankful.
Continued below